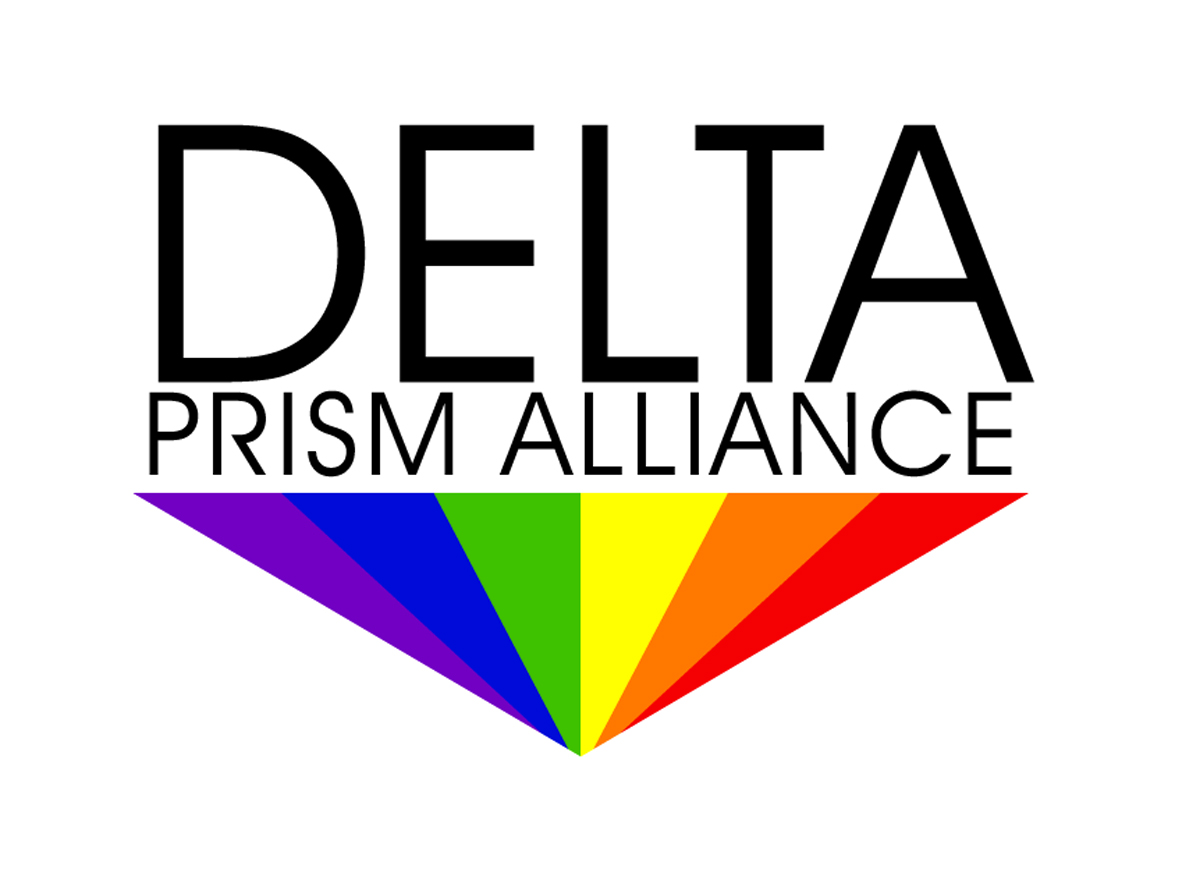 An inclusive organization of Delta College faculty and staff dedicated to affirming and providing support for a variety of identities and expressions of sex, sexuality, and gender
Mission
Please click on the following link for a listing of LGBT+ resources at Delta College, including information on the student LGBT+ alliance.
For more information about the Prism Alliance, please email us at prismalliance@delta.edu or contact Stuart Barbier at 989-686-9136 (sibarbie@delta.edu) or Denise Hill at 989-686-9173 (denisehill@delta.edu). For questions related to LGBTQ advocacy on campus, please call or email Delta's administrative LGBTQ liaison and coordinator, Shelly Raube, Dean of Student Success (Office: D112; Phone: 989-686-9434; email: michelleraube@delta.edu).
History of the Delta College Prism Alliance
Delta's Prism Alliance is a group of approximately 60 faculty and staff members working toward improving conditions for lesbian, gay, bisexual, transgender, queer, questioning, intersex, asexual and other (LGBT+) gender non-conforming students and employees on campus. The group was formed in 2006 by Stuart Barbier. For many years prior to this, the embracing of diversity on campus didn't seem to include diversity related to sexual orientation or gender identity. After meeting with the Human Relations Committee to discuss LGBT issues in March, 2006, Stuart met with Bill Ketchum of the Delta College Black Faculty and Staff Association and discussed that group's mission, which he used as a model for the new group. He then contacted Charissa Urbano, who had worked a lot with diversity on Delta's campus (including working with Dean Barbara Tedrow on the Reflective Leadership Seminar, 1994-1996, and co-chairing, with Linda Holoman, the President's Diversity Task Force, 2007-2009), and they invited a small group of people to meet and finalize the group's mission, after which membership was open to any Delta College faculty or staff member who believed in the mission. Stuart and Charissa co-chaired the group until Charissa's retirement in 2021, at which time Denise Hill became co-chair with Stuart.
The Prism Alliance is an important part of Delta's diverse community, directly contributing to Delta College's Mission—"educating, enriching and empowering our diverse community of learners"—as well as promoting its values: "Delta College is a diverse learning-centered community based on integrity and respect" and "[w]e actively promote, advocate, respect and value differences. We foster a welcoming environment of openness and appreciation for all." As with other groups on campus such as the Human Relations Committee and Multicultural Services, the Delta Prism Alliance's mission is one way to actively promote, advocate, respect, and value differences. Where the Alliance differs, perhaps, is in their focus on helping to create a welcoming environment for a very specific group of individuals actively marginalized by some people in our society.
The establishment of this group was significant enough for Stuart Barbier to be awarded the 2008 Don Laughner Award for Creative Change and the League for Innovation's Innovation of the Year Award, and in 2012, the Delta College Office of Student Diversity & Inclusion Programs presented him with the Employee Champion for Diversity Award, an award also presented to Charissa Urbano in 2013. In 2010, Charissa Urbano was recognized with the Perceptions Saginaw Valley Pride Award, in 2013 she earned the World View Award from the Global Awareness Program, and in 2014, she was awarded Delta College's Spirit of Martin Luther King, Jr. Award, while Stuart was given the American Association of University Professors Delta College Chapter's 2013-2014 Recognition Award for Service (awarded to Charis in 2016) and the 2016-2017 Recognition Award for Governance. Charissa was the 2021 recipient of the Don Laughner Award for Creative Change and Innovation for her work in scientific digital pedagogy and diversity partnerships (on campus and in the community). Denise Hill was given this award in 2012 for her work establishing Safe Space (see below). Significantly, the Prism Alliance was awarded the Delta College Executive Committee for Administrative/Professional Staff's Outstanding Teamwork Award in 2016, the Alliance's tenth anniversary year.
Significant accomplishments as a result of Alliance members' teamwork include:
Rev. 5/30/2021 by Stuart Barbier