Counties/Locations

Ethnic Background
A Firm Foundation—Living Waters Ministries C.O.G.I.C.
by
Barbara Clark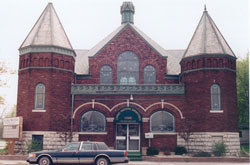 With her steeple pointing upward and her foundation firm, you will find her on the corner of Lapeer and Third Streets in Saginaw. She stands tall at fifty by sixty-three feet, and once you look upon her beauty it's hard to take your eyes off. Her color is garnet, like the sign of Aquarius, and her woodwork adds to her grace. Her windows have an eight-petaled rose design and there is a large chandelier with the same design on the grill work behind the alter. Her life began on January 22, 1901, because God gave the people a mind to build. She was founded by a people of German heritage and ancestry. Her windows contain German inscriptions such as "GelfiFFeF vom Hungfraveverfin," because many of her first members were immigrants from North Germany and Russia. The first name given was St. Mark's Evangelical Church in the early nineteenth hundreds, and later her name was changed with a merger of St. Mark's and the Evangelical Synod of North America and the Reformed Church of the United States in 1934.

Now we know a little about her start, let's take a walk on inside and get a look at her beauty from another angle. Once you walk though the arch-shaped doors you can feel a sense of peace and a calmness that will make you forget about the busy world outside. To the left are two sets of stairs, one that leads to the Pastor's office and the other to the basement. Straight ahead you will see a hospitality lady standing there to greet you with a smile and a warm handshake. Above her head on the wall is a picture of running water that adds to the peaceful feeling. The picture on her wall also represents the new name that was given her in March of 2001, Living Waters Ministries C.O.G.I.C. The Faith that is taught there today is Holiness, and the Pastor is the Elder Tommy Greer. Pastor is a retired school teacher who taught at Long Fellow Elementary for thirty years and who has a voice like the bass singer of the Temptations. His wife, our first lady, is also a retired teacher from Morley Elementary, with the mannerisms of Mother Teresa.

If you look to your left you will see stairs that lead to her sanctuary and to an usher in black and white to greet and lead you to your seat. Living Waters Ministry C.O.G.I.C. has seating for approximately two hundred and sixty people. The pews are arranged in a fan- shaped arrangement and the cushion on the pews are a hunter green color. The carpets on the floor are as soft as marshmallows and match the pews with a hunter green, like healthy grass in the summer time.

If you come in on a first or second Sunday you will find the women dressed in their white, as pure as snow, and the men in their finest suits that may range from the blue of a violet to the red of a rose. You will be able to hear beautiful voices echoing sounds of encouragement, such as "This Little Light of Mine" and "Long as I've got King Jesus, I don't need anybody else." Members will testify of the many things God has done for them, and dance, shout and clap their hands to magnify his name. The congregation then will all join together in unity to pray for their families and friends.
Even though the church building has been around for a long time, her foundation still stands firm. Living Waters Ministries C.O.G.I.C. has been a blessing to all people of many races, religious backgrounds and cultural differences. Her presence has been a blessing in the community, and her beauty will forever stand out in the minds, hearts, and spirits of Saginawians.