Counties/Locations

Ethnic Background
The Ludlums and Mesiels: Long Time- Kochville Tradition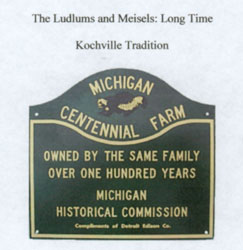 Growing up, our centennial sign was something I always overlooked. It had always been there, but I had more important things to think about. It wasn't until I became older that I truly began to appreciate the beauty of owning a Centennial Farm. The centennial sign historic marker stands proudly in the front of our big white farmhouse--as it has done for the last 32 years. It states that the same family has owned the land for over one hundred years. You can say the sign started my search to find out where my family came from and how I fit into this big puzzle.

The Ludlum Family

In 1873 Albert Ludlum purchased a farm in Kochville Township, where he lived and farmed with his wife Fanny. The house would eventually be passed down three generations and be in our family for over 100 years. Albert was born in New York in 1842 and Fanny was born in 1849 in Michigan. Their eldest son Levant was born June 2, 1878, Kochville Township, and he would marry Augusta Goodeman in March of 1905. Augusta was born in 1882 and the daughter of Theodore and Augusta (Landschwager) Goodeman. Together Levant and Augusta had four daughters and two sons ("Ludlum" Obituary Index).

The eldest son Ernest was born in 1909 in Kochville Township and would eventually marry Marie Hensler. Marie was born August 9, 1909 in Freeland, Michigan, to John and Emma (Rau) Hensler. She was raised on a farm with 11 brothers and a sister. She describes her life on the farm:
Back then, we did not have running water, no inside toilets so one of us was designated to empty the "pots" each morning... The 6 girls shared three double beds in the front room... Everyone had weekly chores and each had two changes of clothes per week. The clothes were washed by hand in the kitchen. (Hensler Roots)

John Hensler's parents where Johann Tobias Hensler and Elizabeth Gertrude Steeb. J. Tobias Hensler was born in 1840 in Wurttenburg. He enlisted in the U.S. Army in 1861 and was discharged in 1865 with a Corporal standing. E. Gertrude Steeb was born February 5, 1851 in Waldenstein, Barvaria (Ancestry Plus).

Emma Rau's parents where August Rau and Anna Herzog. August Rau was born in West Preusen, Germany. According to Hensler Roots, August was to join the German Army, but because he was too small in stature, he was positioned as a tailor. He came to the United States and resided in Frankenmuth, Michigan. He married Anna Herzog, who was born in Frankenmuth, Michigan. She was the oldest of a large family and had a twin sister. She passed away on March 15, 1905 in Freeland, Michigan, after giving birth to their eighth child (7).

How I Fit
Ernest and Marie Ludlum had 3 children: Bonnie, Lois, and Timothy. Timothy was born on October 31, 1950, in Saginaw, Michigan. He married Marian Meisel on July 14, 1973 at Kochville Methodist Church, in Kochville Township. They had my two sisters and myself. I was born August 3, 1987 in Bay City, Michigan, but lived in Saginaw. When I was seven years old, we moved to the Ludlum centennial farmhouse, passed down to my father from his family.
The Meisel Family
Marian Ludlum's parents were Edward Mercer Meisel and Betty Jane Riselay. My mom was the youngest of four children: Jane, Edward, Mable, and Marian. You can definitely tell a Meisel by there distinct round face and hearty chin.

Edward Mercer Meisel was born December 16, 1921 in Kochville Township. He was the only child of Edward Charles Meisel and Heneretta A. Hager. He was raised on a Kochville Township farm, which was also passed down to him from his father. He died June 18, 1995, at his home ("Meisel" Obituary Index).

Betty Jane Riselay was born July 25, 1926 in Saginaw, Michigan. Her parents are Charles Edgar Riselay and Eva Francis Peters. She resided in the city of Saginaw until her marriage. She moved to Kochville Township and still lives there today (Meisel).

Edward Charles Meisel was born November 6, 1883, in Kochville Township. His parents were Fredrick Meusel and Bertha Augusta Jahn. He married Heneretta Hager on July 14, 1910. The same year he was elected Kochville Township clerk. He died on October 15, 1946. Heneretta (Etta) A. Hager was born July 16, 1883 in Michigan. Her parents were George Hager and Sarah A. Fennell. She died on September 7, 1972 ( Obituary Index).

Charles Edgar Riselay was born August 20, 1896, in Saginaw, Michigan. He was the child of George R. Riselay and Anna R. Krebs. He married Eva on August 19, 1916, and owned a trucking business for 45 years. He died in 1964 at the age of 67. Eva F. Peters was born on January 28, 1898 in Gladwin, Michigan. Her parents were William Victor Peters and Almeta J. Hopper. She moved to Saginaw with her parents as a young child. She died on July 2, 1957 in Saginaw, Michigan ("Riselayl" Obituary Index)..

Fredrick Meusel was born in Bavaria, Germany. He died on January 11, 1923 in Kochville Township. He had the name changed from Meusel to Meisel because he wanted a new life for his family. Bertha Augusta Jahn was born in 1850 in Prussia, Germany. She died in 1910 at her home in Kochville Township (Meisel).
George Hager was born August 19, 1850, in michigan. He died on july 13, 1921, in Kochville Township. Sarah A. Fennell was born in 1838 in Detroit, Michigan. She passed away August 29, 1913, in Kochville Township (Obituary Index).

George R. Riselay was born in 1870 in Michigan. He resided in the City of Saginaw. Anna R. Krebs was born in Michigan and died in 1936 in Saginaw, Michigan.

On September 7, 1864 William Victor Peters was born in Ottawa, Ontario. He is parents were said to come from Liverpool, England. It is unknown whether his parents were raised there or this was just the route they immigrated over. He died in 1958 in Saginaw, Michigan. Almeta J. Hopper was born on February 10, 1871, in Ridgway, Ohio. She died on May 18, 1947 in Saginaw, Michigan.

In conclusion, I now better understand my family and the routes they took to the United States. I was amazed to find all the different countries that my family had come from. Over the next few years I would like to continue my study and help better inform myself on the exact location and personalities of each of these individuals. Upon close observation, I couldn't help but notice how almost everyone in our family was from the Kochville Township area, which leaves us with a rich Kochville tradition.

Works Cited
Ancestry Plus. 20 Nov. 2005. 1800-1930 Censuses. 20 Nov. 2005 <http://ancestry.com>
Hensler Roots – John George Hensler Married Emma Rau. Saginaw: Gubbins, 1994.
Meisel, Betty. Personal interview. 20 Nov. 2005.
Saginaw Library.org. "Gertrude E. Hensler, Edward C. Meisel, Fanny M. Ludlum, Levant T. Ludlum, Edward Mercer Meisel, Almeta J. Peters, William V. Peters, August Rau, Anna K. Riselay." Obituary Index. 22 Nov. 2005 <http://obits.netsource-one.net/>.