St. Patrick's Day Miracle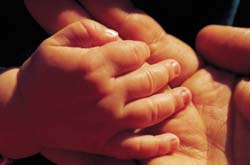 I was the first born grandchild in my mother's family. Growing up I was very close to my Grandma, and that's something I will always thank God for. Her name was Elinor Shea. My Grandma was a very strong woman. After my grandfather died she raised five children by herself. When her children had all grown and she had retired from her secretarial position at St. Mary Cathedral School, she moved into a condominium complex where two of her sisters and two of her brothers also lived.
Grandma was always having one of her grandchildren who lived in Saginaw over for the night. We would spend time going shopping (she could out shop us all), reading, and watching the U.S. Open and Wimbledon. As we grew older we would discuss politics, world news and current events. She was the kind of Grandma who would give us a book about AIDS or a pamphlet on drugs. One time she called in the middle of dinner: "Hurry up, turn on Channel 12. There is a special program about teenagers and sex on right now." She always wanted us to be able to discuss things openly and honestly with her.
Elinor was a fashionable dresser. However, she hated to try on clothes at the store. She was known for bringing something home and having it not be what she wanted. Grandma would call me up, "Joanna, do you want to come over and try on some clothes that don't fit right?"
"Of course," I replied, "That would be great! I'll be there in awhile." She had such an eye for what was "in style" without being anything but classically elegant. How many grandchildren can say they have had new outfits from their grandma's closets - and liked them!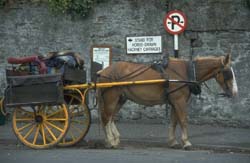 Elinor was very interested in researching our family history. She even traveled to Italy (where her family was from) and Ireland (where my grandfather's family originated) in the hopes of finding out more information about our family. She wanted to pass the history of our family on to her children and grandchildren. Grandma made a genealogy book of each family for all her children. She made sure we all understood our roots and wanted us to be proud of them.
In September of 1993, I got married. Two weeks later, I found out I was pregnant. The whole family was very excited, especially my Grandma because this was her first great grandchild. During this time my Grandma started feeling sick and her doctor started doing a lot of tests. If my mother couldn't go with her, I went to the tests with her. We spent a lot of time talking in waiting rooms. I remember one time: Grandma and I were talking about how the baby and I were doing. "How have you been feeling?" Grandma asked me.
"Pretty good. I went to get my first ultrasound the other day. It was so amazing, Grandma. The baby was moving around and kept sticking its cute, tiny bottom up at us. The little stinker wouldn't turn so we could see if it was a boy or a girl." I replied.
"In my day, we didn't ever know before we had the baby whether it was a boy or girl. It's a wonderful surprise that way," Grandma replied.
Everyone continued to hope and pray that the doctors would find out what was wrong and be able to treat it. She kept getting weaker and weaker as the days and weeks ticked by. Still they could not find out what was wrong with her. Finally, in October, my Grandma was diagnosed with colon cancer. During surgery it was found that the cancer had already spread to her lungs and liver. She decided not to go with chemotherapy because the cancer was too far gone. The doctor told her she only had six months to live. She also decided she did not want to spend any excessive time in the hospital, that she wanted to be at home for the remainder of her life.
My mom and aunt spent most of their time with her. My mom and grandma were extremely close. Another aunt came up from Detroit as often as she could, and a cousin would come from Grand Blanc. (She considered herself one of my Grandma's daughters because my Grandma had loved her and kept her close after her parents died). All of the grandchildren who were in Saginaw also spent a lot of time helping, whether it was running errands, visiting with Grandma or helping our parents at home. In January, the family decided to add some help in the form of Hospice care. Grandma was still coherent but very weak.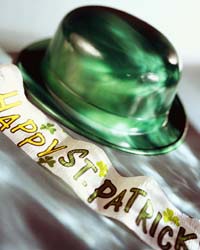 On March 17th, eight weeks prematurely, I gave birth to a beautiful, healthy four pound, thirteen ounce baby girl. We had already decided to name her after the family, giving her the name Sheala from our family name of Shea. Everyone said Grandpa Shea must have been looking down from Heaven. Irish to the bone, he had to have his Irish great grandbaby, too. Grandma was so happy.
The last time my Grandma left her house was two weeks later to attend Sheala's baptism, at St. Mary Cathedral, in Saginaw. It was so special. Sheala wore the family baptismal gown (all my aunts, uncles and cousins had worn it). It was a long, delicate, and very beautiful garment. The years had yellowed it slightly. My uncle took the greatest picture of the four generations together: my grandma, my mom, myself and my daughter. My mom and I were standing next to the baptismal font, and in front of us my grandma was sitting in her wheelchair holding Sheala. The sun was streaming down into the stained glass window next to us, reflecting in the water.
It was such a beautiful, and glorious day. The whole church sensed this was her last time to attend church and they all applauded at the end of the Mass to let Grandma know they loved her. After that she was just too weak to go anywhere else. I would bring the baby over to grandma's, and for hours on end Sheala would lie on Grandma's chest and they would both sleep. Because Sheala was so little, it wasn't difficult for Grandma to hold her. Sheala brought so much joy to my Grandma's last couple of months. During the last few weeks Grandma was just too sick to comprehend what was going on around her. If Sheala had been born when she was due in May, Grandma would never have known her. By that time she wasn't even acknowledging any of us.
On the day before she died my mom called me over to Grandma's, and I witnessed an amazing day. Five of Grandma's friends, my mom, Sheala and I all crowded into her bedroom to say goodbye. Her friends told stories that all began, "Elinor, remember when . . . ." They laughed and cried and my Grandma was more coherent than she had been in awhile. She kept raising her eyebrows whenever she wanted us to know she truly understood. She would smile at every story. One particular story sticks in my mind. It's one that reminds me of just how lively and vivacious my grandma could be. I don't remember who brought it up, but someone started talking about how a select few teachers and nuns would come over to Grandma's house most Friday nights. They would come over to relax, enjoy each other's company, and the libations! That's how my grandma was; she loved to have a good time with family and friends. You could tell she genuinely wanted to spend time with whomever she was with.
That was a day complete with strong faith-filled women, lots of love and the sharing of many great stories. Grandma died the next day on May 20th. There is a place in my heart that is filled with my memories of her, but nothing can compare to what she gave me whShe is greatly missed and still loved to this day. I will always remind Sheala that she wen she was alive. All the love, patience and understanding, only a grandma can give. as an instrumental part in making grandma's life a complete and joyful circle. Being able to bring such happiness into my grandma's life is something I will always treasure. For this, we are sure that Sheala was the St. Patrick's Day miracle for that year.