Counties/Locations

Ethnic Background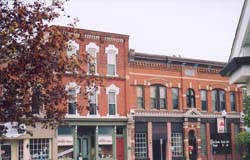 Only a little over two years ago, I moved to the small city of Vassar, a tiny town that runs up to the hill top. The street is lined with trees, flowers, historical homes, buildings, and churches. I had no idea the financial gains this little town had made from the lumbering era of the early 1800s. However, I eagerly began searching out for information about how Vassar got its name in Michigan.

Long ago the village was founded by two men, James Edmunds and Townsend North. North served as not only the co-founder but continued many successful historical ventures in Vassar. Townsend North was born on September 24, 1814, in Ulster County, New York ( "Townsend North").

In 1835 Daniel North had moved his family to Washtenaw County, Michigan. North took work as a carpenter, and Townsend followed in his father's footsteps. In Washtenaw County Townsend took a job to build the first actual dormitory building, which also served as a law building, for the University of Michigan ("Townsend North").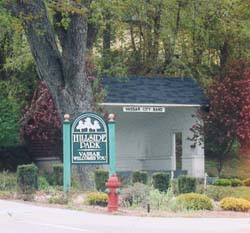 Townsend North relocated in 1845 to Flint, Michigan, where he opened a lumber yard in addition to operating a hotel. While in Flint he submitted a bid to construct the first bridge over the Cass River, located in Bridgeport. His bid was accepted and, in return, he was granted 3,000 acres of land along the river. The land was covered with pine timber, and the soil was rich. Because the pine was so plentiful, Townsend and his brother-in-law James Edmunds came to the land now called Vassar. In March, 1849, he "dedicated civilization" ("Townsend North").

Vassar's first store, called North and Edmunds store, was owned and operated by North
and Edmunds. It included the town post office in it. Townsend considered naming the town Edmundsville, but decided to name it after North's uncle, Mathew Vassar, the founder of Vassar College. Mathew Vassar actually gave Townsend and James the contribution to get the village started ("The History of Vassar").

In 1862 President Abraham Lincoln appointed Mr. North revenue assessor of the sixth district. "This was the beginning of North's political career, and he held this place under U. S. Grant until the office was discontinued in 1873." Townsend North then went on to become state Senator as a Republican ("Townsend North 1814-1889").
In 1865, after his first wife Mary Ann Edmunds died, leaving behind seven children, North was married for the second time, to Celica Gibson. Celica and Townsend had three other children together: Alma, Ula, and Lena (Collis).

By the year 1867 North decided to sell his store (North and Edmunds Store), and he
started the Woolen Mills Company. Townsend North Elementary School opened in 1869 on Mill Street. "Townsend served as a member of the Board for 16 years; he also had the honor to begin the School of the Blind." Only six short years later, in 1875, North started the very first bank in the county, showing once again what a true philanthropist he was ("Townsend North 1814-1889")
.
In 1880 Townsend North built the Townsend Mansion; the twenty-room home was constructed with the finest walnut and ash woods available. Still standing today in Vassar, it is one of the largest homes in the city, a big white house with a wrought iron fence surrounding it. The "Old North Place" is currently owned and occupied by Roger and Pat Goggins. Pat is President of the Historical Society in Vassar. She and Roger have owned the home for eight years. Pat said, "We have a couple of original pieces of furniture." She also told me that "it is a private home and we have not been able to alter or remodel, because it is a historical monument" (Goggins).

Townsend North died on June 13, 1889. According to the "North Obituary," North was noted as "honorable and one of the pioneers of the city of Vassar":
June 13, Honorable Townsend North of Vassar, one of the pioneers of this county died of heart disease at his residence at 3:30 yesterday afternoon. Mr. North came to Vassar in 1848 and was instrumental to founding this village. He built the first saw mill on the Cass River at this place, also the first store of any importance. He controlled a large interest in the Vassar Woolen Mills. Mr. North has held various offices of honor and trust was elected State Senator in 1874, was President of the First National Bank of Vassar, a member of the State of Board of Directors of the Blind Asylum at Lansing, which position he held at the time of his death.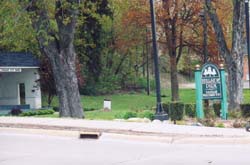 Townsend North died long ago. Today, many generations continue on in the quiet town he co founded, and many new faces move to Vassar, to relish its relaxed subtle lifestyles. Today Vassar stands as one of the smallest cities in the state. I get the feeling that it is still the wonderfully warm welcoming community it was noted for from the very beginning. Townsend North offered many positive contributions to not only Vassar, but also to the state of Michigan.
As we reflect on the history of Michigan, we should tip our hats to Townsend North, not only for his part in co-founding Vassar, but for all of his lifetime accomplishments as entrepreneur and as humanitarian.
Works Cited
Collis, Flora. "Letter to the North File." Genealogical Bullard Sanford Library.
The History and Pioneers of Vassar. Dir. David Eicher. MI: Vassar Historical Society, 2002.
Gogins, Pat. Telephone interview. 22 Nov. 2002.
North, Ula. "Interview with Ula North." Craig, Lois (1959): 2.
"North Obituary." Saginaw Courier 14 June 1889.
"Townsend North 1814-1889." Vassar Pioneer Times Mar. 1949.