Counties/Locations

Ethnic Background
Wellington R. Burt: Remarkable Eccentric
Wellington R. Burt was a very vindictive man. He sometimes gave a lot, but more often gave too little. He was interesting to me because not only was he a lumber baron, but he was a politician as well. Burt was born in Genessee County's Pike Township in Western New York state on August 26, 1831, not far from Rochester. He was the ninth of thirteen children born of his parents' union. He moved to Jackson County, Michigan, near Concord, in 1839; one year after Michigan became a state ("Remarkable Career"). This is where he started his schooling. After graduating from high school, he went on to study at Albion College and Michigan Central College, now Adrian College.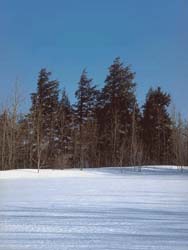 After Burt completed his college education, he traveled for three years to Australia, Central and South America, and New Zealand. When he came home, the "Green Gold Rush" was at its height. Timber was being cut by the thousands, and it seemed everyone wanted a piece of that "gold". Burt bought 320 acres of land in Gratiot County and started lumbering himself. He came to Saginaw in 1857, and named it Melbourne, after the city in Australia he had visited on his trip. Burt, like other lumber barons of his time, had quote a bit of money from his timber business, but he also had railroad holdings. He financed and built the C. S. & M. Railroad and later sold it to the Grand Trunk Railroad system. He at one time was practically the sole owner of the Ann Arbor Railroad. These share holdings ran well into the millions of dollars. ("Remarkable Career").

Always into politics, Burt was a fierce fighter in the game and was elected Mayor of East Saginaw in 1867, already popular after only ten years in the community. He also ran for Governor in 1888, but was defeated.

After Melbourne was destroyed by a fire (unknown causes), people thought Burt would go under, but that wasn't the case. This man had a lot of money. He held timber rights in the Upper Peninsula, Mississippi, Alabama, Louisiana, and northern Minnesota. Minnesota was where the money was. As it turned out, his timber was on top of an iron field, which he later sold to the United States Steel Corporation ("Remarkable Career"). This officially made him a millionaire.

Seeing as Burt now had millions, he thought he would give something back to the community that had given him so much already, the community he called home: Saginaw. He was one of the donors of the City Auditorium and the Manuel Training School (Gross 48). A lot of his money was held in Government bonds of the United States, Mexico, Russian Japan, Germany, Australia, Hungary, and South American republics.

Earlier I said how vindictive Burt was. Now, let me tell you why: When he acquired all the wealth he could, he had a fence put up around his property at Cherry and E. Genessee Streets. When someone from the city came to tax him, "He was so infuriated, that he struck the Saginaw East side school district and the Home for the Aged from his will" (Gross 49). Also, he had a disagreement with some of his children, and banished them from his will as well.

All of his money was put into an account at Second National Bank and was not to be distributed until twenty-one years after the last survivors of his two grandchildren, Wellington Burt Hay, and Wellington R. Burt III died ("Millions Beckon Heirs"). This will is the reason Burt is remembered.
"Officials said in 1979 that there were three of the original grandsons living. None, however, are in Saginaw. It is estimated that not before the year 2010 will Burt's fortune be distributed among legal heirs." (Gross 48-49). Burt was the wealthiest man in Saginaw, and one of the eight wealthiest men in America ("Millions Beckon Heirs"). His wealth was valued at anywhere from forty to ninety million dollars.

Will Burt's millions ever be distributed among his heirs, or anyone else? This is a question on many people's minds, certainly mine. I knew nothing about this man, but now I want to learn all I can. It is easy to see why this politician and lumber baron will go down as an eccentric in the
history of the Michigan and all across the country.
Works Cited
Gross, Stuart. Saginaw: A History of the Land and the City. Woodland Hills, CA: Windsor Pub., Inc., 1980.
"Millions Still Beckoning Wellington Burt Heirs." The Saginaw News 31 Aug. 1951: n.p.
"Wellington R Burt Dies at Age 87; Remarkable Career." The Saginaw News 3 Mar. 1919: n.p.